News
Back Line Blend, Consistency & Standing Out - England's EPS - 2014-10-28 10:37:27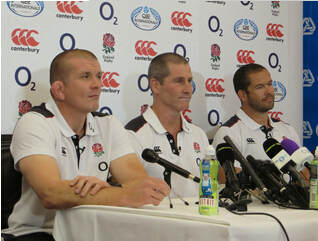 The England Rugby EPS squad announcement day is always a big day, after weeks of anticipation and players sticking their hands up for selection the 4 men at the helm of our elite game make their choices and announce them to the world's media. Yesterday Stuart announced the 33 man squad for the QBE Internationals at QBE's Head Office and following the live broadcast he spoke openly to the press regarding the decisions that he and his team had made giving us a true insight into their decision making.
"We select the side on objective data so the effectiveness at the breakdown, the skill execution, your tackles that you make, your clearout effectiveness so they are all objectively measured. But then there is a subjective analysis that we do every week, we all sit down and we and we have criteria for every position and we score every player. It's a big guide to how we select the team."
The word consistency was mentioned a lot throughout the announcement, it is clearly a huge focus and rightly so for our Elite Coaching Staff;
"Some players have had standout games. It's then backing that up a standout game with another standout game and then another. Not a standout game then one that is 7 out of 10. To be the best it's not about the flash stuff, it's actually about skill execution and everything done at a very high level. And if we take Jonny Wilkinson as the benchmark, he didn't get everything right all the time and it wasn't always flash, but he was incredibly consistent in everything he did."
There was also a fair amount of discussion regarding the wing men, with an abundance of riches on our Aviva Premiership wings there were always going to be players that missed out. Stuart assured the players and indeed confirmed to us all that those that weren't initially selected aren't left out in the cold;
"It's not a long way back for him [Chris Ashton] at all. Neither is it for Christian Wade, David Strettle or Anthony Watson. They are the other four we had a good debate about. The message to those [wings] not selected is consistency, it is all the little things you look for. Our players have to be very, very good at everything and have two stand-out qualities as well. It could be a Christian Wade pace, a Watson step, a Roko power through the line, Nowell's ability to get through first defender, or Jonny May's out-and-out gas. The other piece of the jigsaw is the ability to be good at everything else. Ruck effectiveness, ability under the high ball, defensive alignment, kicking game, everything."
There are 7 Bath players in the 33 man squad the potential of picking a 'club unit' was highlighted and put to Stuart;
"We have never selected that way in the past. We have never felt that because Toby Flood plays at 10 we had to pick Ben Young at 9. We back ourselves and the players to adapt to different players. We have been together in development now for two and a half years so I would be disappointed if we had to go to that."
With so much natural talent housed in the squad it was interesting to hear the team share their position on a question regarding a pure focus on precision and execution versus playing with flair and instinct which naturally brings a lower level of precision;
"When we first started a couple of years ago, we always went on execution, just so they understood that continuity and not turning the ball over is an important part of the game. Once they understand that now we are talking about decision-making, so we want them to be able to express themselves but we want them to be able to make the right decision first. The decision is therefore judged more so now, because they expect the execution to be right themselves. They will self-police that. The decision of why a pass or a kick is made is vitally important because we want to do the right thing, that might be to be running the ball from our 5m line and scoring a 95m try, that's how you judge your players and get the performance you want."
The overall message from the England team was clear, consistency is king and it is evident for us all to see from their selection decisions and justifications that they are demanding a lot from our country's elite players. Now, in 2014 to be in with a shot of playing for your country you have to truly be world class, on all fronts, week in and week out and deliver more than ever before due to the competition around you. After one final European hoorah it is time for the coaching team to get their hands on their players and that is something they can't wait to do before the colossal task of hosting the best of the Southern Hemisphere at home in just over 2 weeks time.